I can't believe it.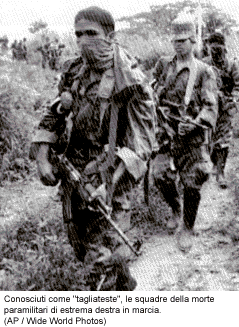 "As ambassador to Honduras, Negroponte played a key role in coordinating US covert aid to the Contra death squads in Nicaragua and shoring up a CIA-backed death squad in Honduras. During his term as ambassador there, diplomats alleged that the embassy's annual human rights reports made Honduras sound more like Norway than Argentina. In a 1995 series, the Baltimore Sun detailed the activities of a secret CIA-trained Honduran army unit, Battalion 3-16, that used "shock and suffocation devices in interrogations. Prisoners often were kept naked and, when no longer useful, killed and buried in unmarked graves." In 1994, Honduras's National Commission for the Protection of Human Rights reported that it was officially admitted that 179 civilians were still missing.

A former official who served under Negroponte says he was ordered to remove all mention of torture and executions from the draft of his 1982 report on the human rights situation in Honduras. During Negroponte's tenure, US military aid to Honduras skyrocketed from $3.9 million to over $77 million. Much of this went to ensure the Honduran army's loyalty in the battle against popular movements throughout Central America. "


George Bush Sr was CIA chief until 1977 before running as Vice-President to Reagan and he was deeply involved in US covert operations in Central America. Negroponte has done well in reward for his loyalty. Never say the Bushes don't look after their own.